In Terms a Ratepayer Can Understand, How Does the Tariff Affect Solar Energy Prices?
By Ron Zagarri, TXSES
January 30, 2018
On January 22, the Trump administration officially announced the imposition of long-feared tariffs on imported solar cells and modules. The solar industry reacted to the decision with disappointment and concern over the impact on growth and employment due to the resultant increase in solar costs.
From large utility-scale solar farms to small rooftop solar systems, costs will no doubt rise, but—in terms the average electricity ratepayer can understand—by how much?
No organization has published research on this all-important metric, until now. I recently spoke with Joshua Rhodes, a postdoctoral fellow at the University of Texas-Austin and recognized expert in the bulk energy market, to discuss his research in tariff-induced solar energy costs.
TXSES: We have heard much about tariff impacts in the solar media. The new 30 percent duty, over and above existing tariffs on cells and modules, has been estimated to cause the loss of 23,000 American jobs this year, mostly in downstream manufacturing and construction. According to GTM Research, an imported module would be expected to cost ten cents more per watt the first year, stepping down to a four-cent premium in year four. Solar deployments are estimated to decline 11 percent (or by 7.6 GW) in the next four years—about 65 percent of that utility-scale solar—and increase the retail cost of a residential solar install by approximately 4.9 percent. Do these figures stand up to scrutiny?
Rhodes: I think the numbers that you mention are in the ballpark of what could happen. There are three things happening concurrently over the next few years: 1) the tariff decreases every year, 2) the Investment Tax Credit starts to fall off in 2020, and 3) the cost of solar panels (wholesale) will likely continue to fall. All of these factors interact with each other and make it harder to predict where things will land, but it looks like the effect of the tariff will be overcome by other declining costs in twelve to eighteen months, depending on location.
A significant number of the job losses are really jobs that will not be created that otherwise would have been, but it's still puzzling, as that is the kind of job growth that would make the Trump administration look good.
In terms of all the capacity projected to be lost, the more I look at it, the less I feel the impact will be that large. There will be some capacity not built that would have been otherwise, and prices without the tariff would always be cheaper than with the tariff. However, the "lost" capacity will probably be built; it will just be pushed out a couple years. The tariff is a speed bump, but we will still get where we are going.
TXSES: On the surface, a 30 percent tariff sounds pretty scary for prices. However, that and other numbers about job losses and solar module prices does little to inform the typical ratepayer on the impact to their monthly electricity bill, assuming they could source all their energy from the sun. As I understand your research, the price impact of the tariff is a function of insolation. Can you elaborate?
Rhodes: Obviously, the tariff won't affect those that already have their systems installed, but our models estimate that, on average over the next four years, the cost of new utility-scale solar will increase by about $1-$2/MWh, or about 0.1-0.2 cents/kWh. Because the module cost makes up more of the total cost of a utility-scale PV system than a residential system, the cost increase of residential systems will be lower. Thus, we'll feel the impact less on the distributed solar side—on a levelized cost of electricity (LCOE) basis—than the utility-scale solar side.
However, the cost increase will vary across the country. The main difference is that the cost increases will be felt less in areas that have higher solar radiation. The more energy a solar PV system generates, the less sensitive it is to cost increases.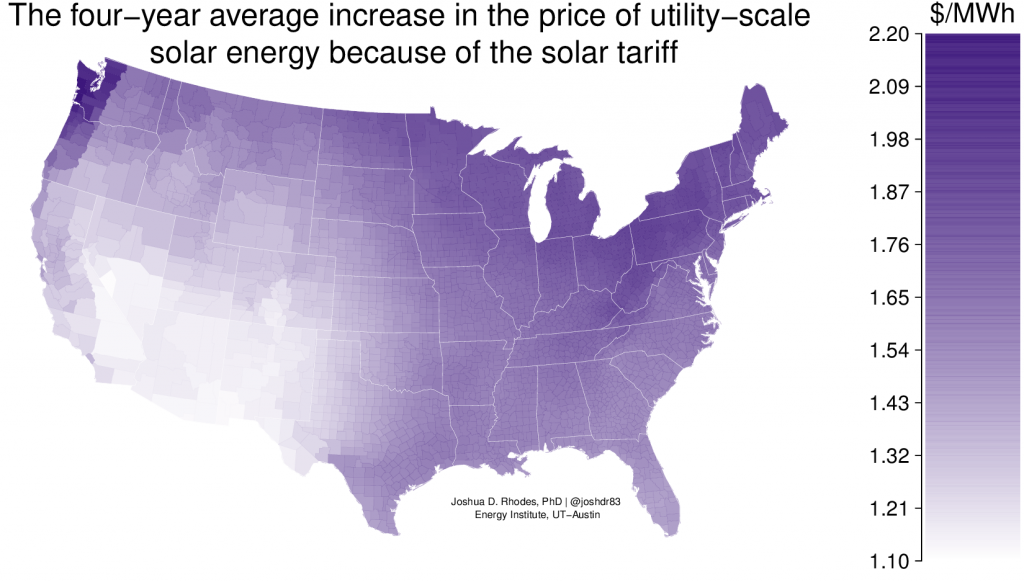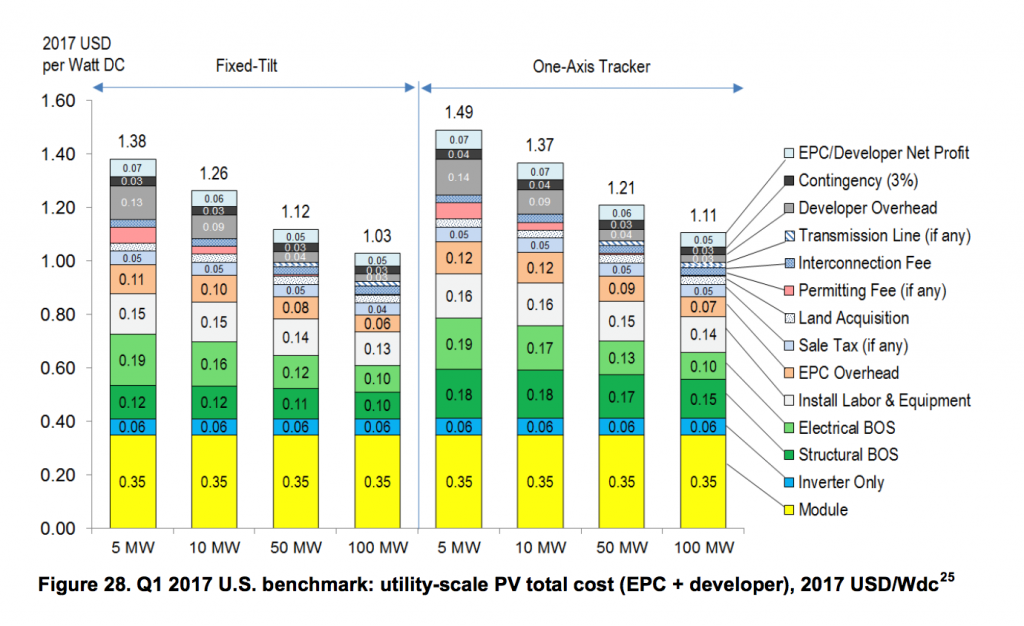 The chart on the right from NREL breaks down the components of utility-scale solar PV in the United States by size and type. The tariff only affects the module cost of the system, or the bottom-most, yellow part of the bar chart. A 30 percent tariff (first year) against a $0.35/W module cost is about $0.11/W increase for the entire system.
TXSES: Since we are discussing the utility market, it is widely considered the most vulnerable to tariffs, since as you noted, module costs comprise a larger proportion of system costs. It is believed some projects on the economic cusp will be pushed out of the market despite the numerous noneconomic benefits accruing from solar energy. Yet, does a one- to two-dollar per megawatt hour increase cause a power utility to abandon or delay a solar investment?
Rhodes: There will likely be some projects that either pause or renegotiate PPAs. Austin Energy recently signed a solar PPA for about $28/MWh for a facility to be completed in 2020, and that was the lowest the United States has seen. Even if it were to increase to $30/MWh, that still feels like a good deal, plus it is guaranteed for fifteen years. That is still a great hedge in today's market!
TXSES: Some forecasts predict the tariff will have a disproportionate impact on states with newly emerging solar markets, with southern states like Texas, Florida, and North and South Carolina among the hardest hit. From a Texas perspective, especially west Texas where most of our utility-scale solar is sited, that does not seem to conform to your analysis.
Rhodes: Those forecasts are referring to states such as Wisconsin and states in the southeast where solar is just starting to make economic sense. West Texas has 1,000 megawatts of solar installed and another 2,000 megawatts of projects in various stages of planning, construction, and connection. The tariff could slow some projects down, but it is too little too late to stop them. Those other states will become economical again in a couple years.
TXSES: The tariff threat was anticipated for some time. The immediate impact in the first half of 2018 should be dampened by the large volumes of stock imported into the United States prior to the official announcement. An opposing factor is a run-up in module costs that occurred due to shortages resulting from the increased demand. How do your projections account for complexities such as this?
Rhodes: I used an 80/20 mix in my projections. I assumed that over the next four years, 80 percent of modules will be subject to the tariff and 20 percent will not. In reality, the average price will be blended somewhat. I am not sure which will have the largest effect—the run-up in price or the amount of panels hoarded—but if we assume they cancel each other out, then perhaps my numbers will still be a good estimate.
TXSES: Some analysts anticipate that we will not actually see a measurable increase in system costs. Rather, they argue that the new tariff will simply negate ongoing cost reductions due to the inevitable efficiency improvements that will occur across the solar value chain during 2018 and 2019. While solar energy consumers would prefer the perpetuation of ever-lower prices, how harmful would a hiatus in cost reductions be to American jobs and solar industry growth?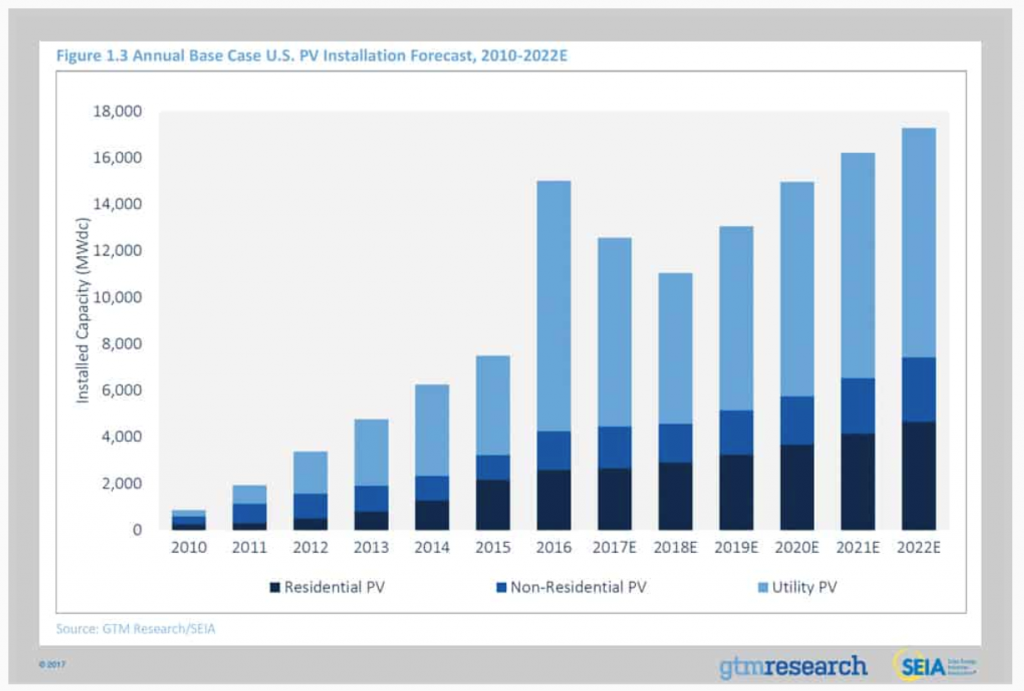 Rhodes: We can think about this in terms of a natural experiment over the past few years and ask if PV will still be economic. In 2016 the average installed cost of utility-scale PV was about $1.45-1.54/W. In 2017 that price dropped by about $0.40/W to $1.03-1.11/W. The tariff, at its worst, could raise the cost of that system by about $0.11/W. Remember, we installed about 15,000 MW of PV in the United States in 2016. It is hard to say how harmful the hiatus in cost reductions will be, but looking at this data, it doesn't look like it will be overly harmful to the PV market.
TXSES: Should I have asked any other relevant questions?
Rhodes: The effect of the tariff might be similar to how President Reagan brought foreign car manufacturing to the United States through the threat of tariffs. Some solar manufactures are looking to open factories in the United States; however, given the highly automated nature of modern solar PV manufacturing, I am not convinced that it will bring the jobs that the Trump administration is seeking.
Joshua D. Rhodes, PhD, is a Postdoctoral Research Fellow in The Webber Energy Group and the Energy Institute at the University of Texas at Austin. His current research is in the area of smart grid and the bulk electricity system, including spatial system-level applications and impacts of energy efficiency, resource planning, distributed generation, and storage.