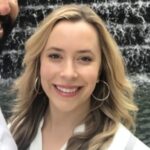 Guest blog: Katherine Burk Cheema is a West Texas native and a proud Texas Longhorn Alumna. In her spare time, she enjoys spending time with her family, paddle boarding and kayaking. All opinions are her own.
I found my way into solar by way of the software industry. I grew up in West Texas around the boom and bust of the oil and gas industry. The innovative and cutting-edge nature of the solar industry appealed to me, and I was drawn in by the job-growth engine for the economy which I assumed equated to better energy access for all– especially for Texans. The growth of the solar industry matched with a career in high tech appealed to me as a pairing that would stay relevant and competitive for the next fifty years. I was highly motivated and ready to launch my career in solar.
As someone who had worked in the tech industry for many years, I had grown quite accustomed to being one of the few women in the workplace (and one of the even fewer women in leadership). But perhaps nothing could have prepared me for the gender homogeneity of the solar industry. If you work in solar, then you probably already know that the state of diversity in our industry is dire.
The National Solar Jobs Census of 2018 found that of the more than 242,000 solar workers nationwide, women represented 26.3% of the workforce. Representation of women in technical roles like installation and engineering is even more alarming. Early on in my career, I had more than my fair share of interactions with male peers in the space that made me question if I was going to be able to carve out a space for myself in the industry.
Ironically, I often meet solar professionals who tell me how hard it is for them to find skilled and qualified candidates for roles at their firms. Sourcing and retaining solar professionals are a widespread problem in the industry.
In 2018, roughly 26% of solar companies reported it was "very difficult" to hire qualified workers, an 18% increase from the previous year. Seemingly innocuous hiring strategies like limiting your top of funnel to individuals with experience in the industry can yield unintended consequences like this supply/demand imbalance. By eliminating our bias in the recruiting and interviewing process, I believe we can overcome this serious challenge that our industry faces.
If you are committed to increasing the gender diversity of your team, let's talk some table stakes: hiring women means you have to pay them a fair and equitable wage relative to their male counterparts. There is a 26% gender wage gap in the solar industry, as men are more likely to earn higher wages than women at all position levels. About 37% of men fall in the wage bracket of $31 to $74 per hour, compared to only 28% of women.
But it isn't enough to just attract talented women to your team – you must provide professional opportunities and skills to retain them. Employers must create and foster an environment that motivates women to build a career at your company. This is why initiatives like equitable family leave policies that ensure women never have to make the choice between starting a family or advancing their careers are so crucial.
Chances are that if you're reading this article, you're less likely to be a woman or person of color. But that doesn't mean you can't be a change agent. In fact, numerous studies show that sentiment in the solar industry is evolving, albeit slowly. Recent data suggests that a growing percentage of solar companies are establishing strategies to make their workforces more diverse. The percentage of firms reporting a strategy to increase the representation of women increased from 14% in 2017 to 24% today, as just one example.
There's a lot of work to be done in the solar industry to address these challenges, but I've never been more optimistic that the best companies in the space will tackle these issues head-on with innovative solutions. Despite the adversity I've faced in the industry as a woman, I never once have regretted my decision to join it and am excited to witness what the future holds.