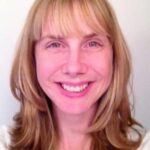 Chair's Corner – December 2020
Katherine Searcy, Chair
As we wrap up one of the most tumultuous years that I can recall, I return to gratitude as a centering and productive force: gratitude for the technical and business achievements that enabled climate-friendly photovoltaics to become a dominant source for new electric generating capacity nationwide; gratitude to live in Texas, a state with such an abundant solar resource that we have the second largest installed solar capacity of any state, and we are predicted to more than triple that capacity in the next five years; and gratitude to our members who have sustained our organization through this uncertain year with their generous donations.
Within the organization, I extend sincere thanks to our Executive Director, Pete Parsons, who has faced down an extremely challenging first year with enthusiasm, humor, and determination. I'm grateful for the other Executive Committee members, Micah Jasuta (Vice Chair) and Paul Gonin (Treasurer), who have met weekly to provide counsel and steer the organization, and for the full TXSES Board.
I give thanks to Lucy Stolzenburg, our previous Executive Director, for supporting this year's Cool House Tour. I sincerely thank Ron Zagarri for overseeing the transition to a new accounting system and new bookkeepers, a detailed and sometimes tedious, but critical, task for a lean nonprofit such as ours. Finally, I want to extend a special thanks to Jane Pulaski, who has donated untold hours managing our communications, social media accounts, and grant applications throughout the year.
In 2020, we transitioned the Cool House Tour to a virtual format and were excited to learn that half of the participants were first-time attendees. We continued to publish this Solar Reflector newsletter, and we substantially increased our social media presence. We welcomed Eco El Paso as our West Texas chapter. Finally, we began expanding services to our business members by forming a policy committee.
Through this committee, we support solar-friendly policy in Texas by connecting our business members, collaborating with other nonprofits, and providing credible information to relevant stakeholders (industry, utilities, legislators, and the general public).
Looking forward into 2021, we intend to expand our programs. The Cool House Tour will continue in a virtual format. We will establish the policy committee as a valuable forum for our business members to exchange information and form coalitions for mutual benefit. Taking inspiration from our chapter, Solar Austin, we are seeking funding to create equitable, clean energy internship programs in each of our chapters' cities.
Finally, as funding allows, we intend to promote community solar as a viable option for people who cannot install solar on their own roofs, yet want to power their lives with the sun.
Weathering this year's storm truly took a village. I'm grateful for everyone's contributions that enabled us to continue working toward our mission of equitable access to solar energy for every Texan.
Happy Holidays and Best Wishes for a Healthy New Year,