TXSES is a chapter of the American Solar Energy Society, whose members have promoted solar energy since 1954. ASES is the nation's leading association of solar professionals & advocates whose mission is to inspire an era of energy innovation and speed the transition to a sustainable energy economy. Their annual National Solar Tour is the world's largest grassroots solar event and TXSES chapters are well represented. The ASES annual conference, Solar 2019 -The Race to Renewables, will be in Minneapolis August 5-9. Join ASES, receive issues of Solar Today Magazine and support this organization that has a long history of promoting clean power for the country.
Our Chapters Around the State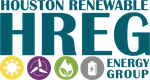 HREG  is working to bring awareness of solar power and sustainable resources to the Energy City. They meet monthly to cover topics of interest. A collaboration is now in place with Solarize Houston and Solar United Neighbors to accelerate the adoption of solar through group purchases in Houston neighborhoods. Bill Swann's famous Solar Energy System Workshop is held the last Friday of the month. Check out the HREG Events page .This TXSES chapter has a strong history of keeping renewable energy in the conversation in a community dependent on fossil fuels.  Sign up to receive their newsletter and stay up to date on important events in Houston.