When Michael Blank was nine, his dad, an electrical engineer, taught him basic wiring. At 13, Blank was doing more complicated electrical tasks than dad was comfortable supervising. Spoiler alert: solar PV and Michael Blank have a future together.
When IBM released its first personal computer in 1986, Blank and fellow students at Video Technical Institute at Long Beach disassembled it and put it back together. Thus began his career in network engineering. So it's no surprise that when he turned to home renovations, going green and going solar were a given.
We caught up with Michael recently to learn more about his sustainable home in Dripping Springs, including a 20kW ground mount solar PV system with battery backup. Here's our conversation.
TXSES: Given your early DIY tendencies toward things electrical and mechanical, it's little wonder that solar PV and you were destined to meet. When did it end up on your to-do list?
MB: Solar and green renovations were always a hobby. In 2009, I installed our first PV system, a 6kW system with Xantrex inverter on our custom home in Fort Worth. It was an expensive system; those $900 Kyocera panels cost $40K. We saw some savings, but it wasn't until we moved to our current home in Dripping Springs that we really got to go big with PV.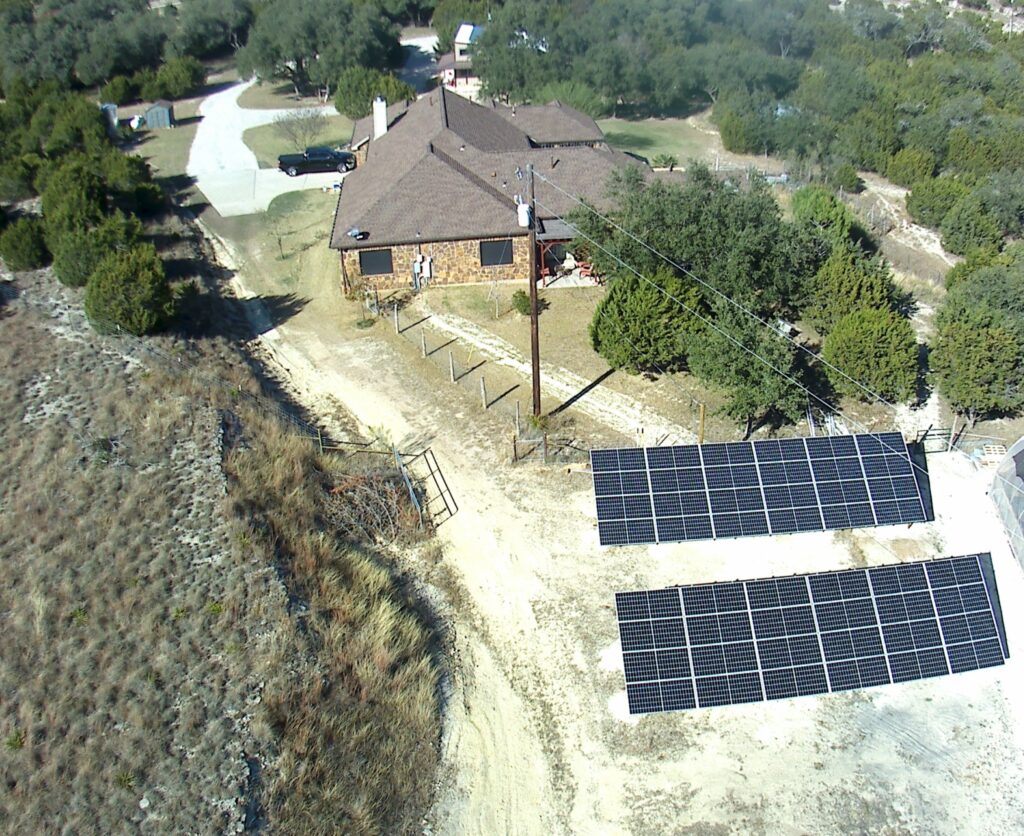 TXSES: Tell us more.
MB: When we moved from Fort Worth to Dripping Springs in 2017, we decided to take our $40,000, 6kW PV system with us. I installed it on the roof of my office/shop.
TXSES: And is it still generating sufficient power?
MB: Surprisingly yes! Despite its age, that system is still producing like a workhorse. I was expecting 10%-20% loss but it hit its full 6K power, zeroing out my bill for the shop!
The next project, our home in Dripping Springs, is 3,500sf with a pool and two AC units. Pre-PV, our bills were running $150-$200 in winter and $450 in summer.
TXSES: And now with your new, larger PV system?
MB: We started designing a 20-25kW rooftop system with battery backup. I contacted four Austin installers whose prices ranged from $50-70K for just the PV; batteries added another $15-20K. And yes, there is a 26% federal tax credit but the more I thought about it, the more I decided that I would do it myself but not as a rooftop installation. We've got six acres of land –just perfect for a 26-degree ground-mount PV system.
TXSES: So all you needed was a welder and some pipe.
MB:  That and the system. I met with a local welder and found technical specs for a racking system from Iron Ridge. Panels and system came from altE Energy Store in Massachussets. The ground mount system, which we call Phase 1, was commissioned November 20th. It went up quick! I call it Texas meets Technology.
TXSES: Catchy!
MB: We repurposed old 3" drill pipe from Odessa. Once the mounts are built, you can install one rack in a day. Grid connection to Pedernales Electric Coop (PEC) was very easy. They came out a week after I applied for certification and passed it.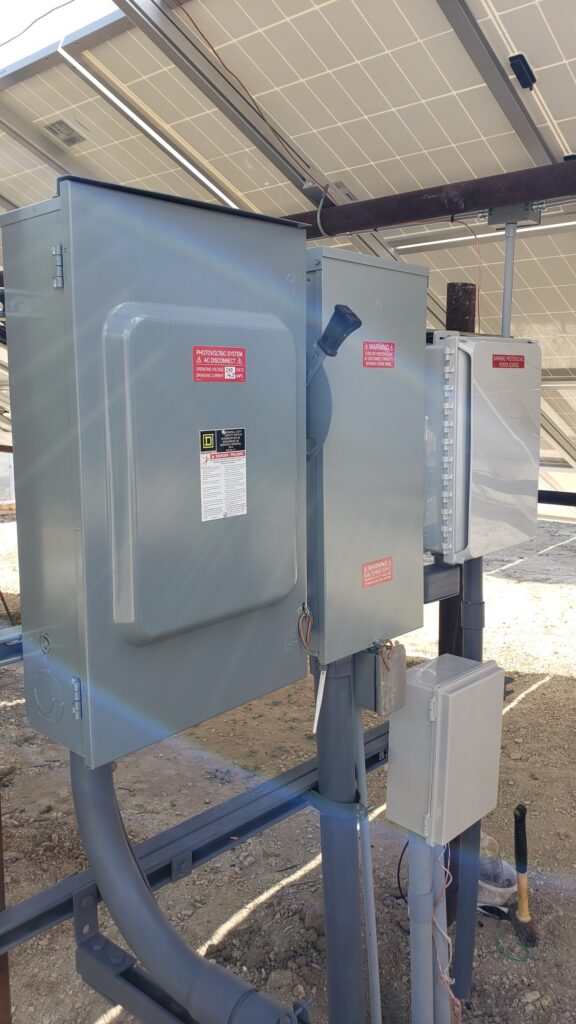 Our new system is a 20kW ground mount Q Cells 420W panels (Q peak duo L-G8.2) with 14.4 kW usable from the microinverters, Enphase IQ7+. 7kW is grid-tied directly and the other 7kW connects to an Outback Radian GS8048 grid-tied inverter with two 6kW KiloVault HAB 7. I'll build a small protected shed that will be insulated and temperature controlled for the batteries and inverter in Phase 2.
Although the panels are 420W, the inverters only produce only 300W each, but given the size of the system, we're still gathering more light and collecting more energy quicker because of the size of the panels.
TXSES: What's the system producing now? Was it less expensive than $70K+?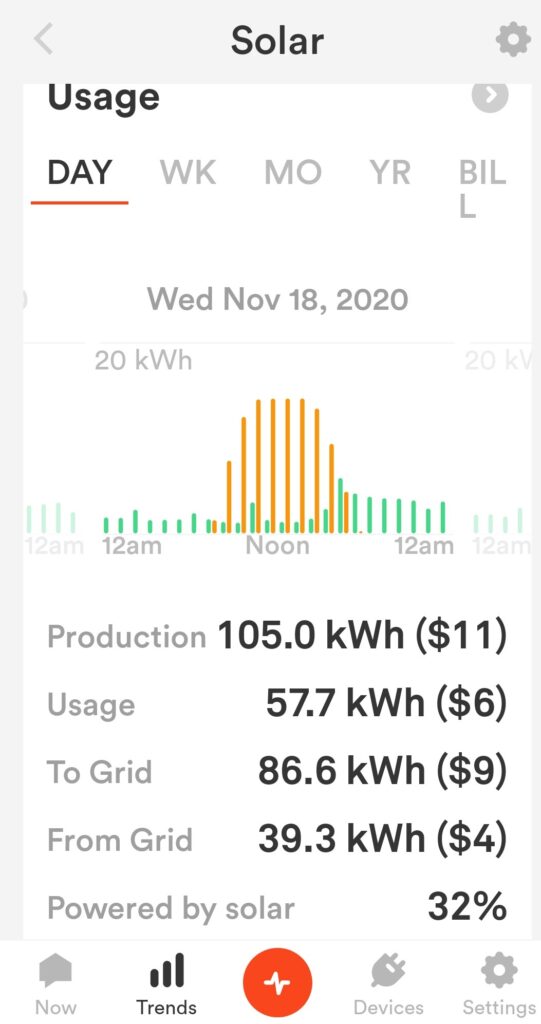 MB: It's producing 105kW/day on a good day which will zero out our winter bills. Our $450 electric bill should be $100. And yes, much less expensive than $70K. The PV system with racking was about $26K; battery system $12K; steel for ground mount $2K, totaling about $40K. I was originally pushing for 25kW system to completely zero out my electric bill but all of the solar installers I spoke with recommend sizing a system to 80%. My November/December solar production was 2,164kWh and actual usage for the home was 1,924kWh, a net of 240kWh. I'll know at the end of the year how we're actually doing.
TXSES: Are you net metering?
MB: Yes. We're on the standard fixed residential rate of $08.9c/kW. Any excess power that we generate goes back to PEC's grid. Whatever I consume at night comes back as a 1:1 credit. As long as I use it before the end of the billing period, it's a 1:1 credit. If any excess rolls over to the next month, they cut that credit in half.
TXSES: You must be pleased. How did you decide on the battery system?
MB: The panels were the easy part of the project. The batteries were more challenging.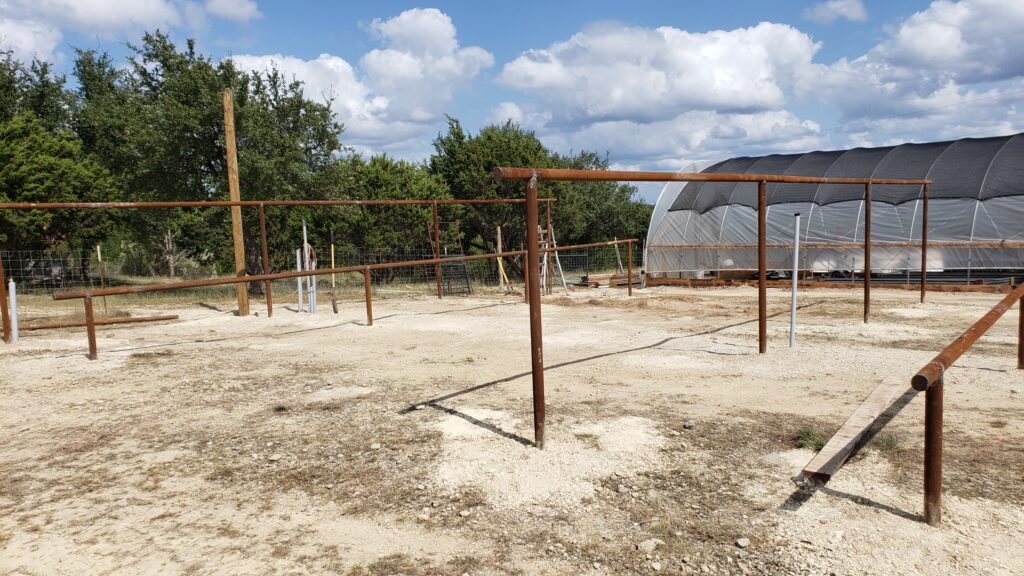 TXSES: How so?
MB: It really came down to what system I wanted. I looked at Tesla and LG Chem; each had its own set of issues. We ultimately went with KiloVault HAB 7.5. Because it will be a battery-backed home, 7kW of the PV array will feed into the inverter to keep the batteries charged. If the grid goes down, the Outback inverter will generate the correct frequency to turn the microinverters on, making us a microgrid and completely islanded.
TXSES: What surprised you the most about this project?
MB: That it comes together a lot quicker if you plan it! If you're going to do it, do it right.
TXSES: And you've certainly done that, Michael. Thanks for sharing your story with us. OK if we circle back with you next summer for an update?
MB: Absolutely! Thanks for the opportunity to share our story.