by Jane Pulaski
In this nothing-is-normal simmering cauldron we're currently living in, I am nonetheless thinking about the upcoming Texas legislative session. Perhaps it's a distraction from relentless pandemic obsessing, but as a former house and senate committee clerk, every new session still arouses my penchant for the legislative process. While every session is unique, this one comes with a wallop: the pandemic and low oil prices have decimated state coffers.
According to State Comptroller Glen Hegar, general revenue for the current two-year budget is some $11.5 billion less than the $121.8 billion estimated last fall resulting in a $4.6 billion deficit when the current biennium ends August 2021. That's painful, especially when pre-COVID, Hegar predicted almost a $3 billion surplus.
Given the state's gloomy economic position, I reached out to Charlie Hemmeline, Executive Director Texas Solar Power Association, for his thoughts about how solar might fare during the 87th Regular Session starting in a month.
"Texas has an enviable market structure for solar," he said. "We've got lots of land, sun, population, and we consume the most energy."
He's right.
Texas is the largest energy-producing AND energy consuming state in the nation. Our industrial sector, including refineries and petrochemical plants, accounts for half of the energy consumed in the state. Despite our inherent tendency to brag, somehow that statistic doesn't feel brag-worthy.
Before COVID, Texas's solar outlook was embarrassingly brilliant. "We were projecting 2020 would be the biggest solar year ever, and it has been," said Hemmeline. "We've more than doubled total installed capacity this year, more than doubled our footprint in utility and distributed scale installations. We're adding gigawatts; that's the metric now."
Even though solar was considered an essential business because of grid reliability and security, the pandemic definitely impacted the industry. "Like other industries, solar had to figure out how to conduct business; what could companies do to keep employees and consumers safe. But the industry was able to modify its business model. Sales and business activities shifted to online platforms. Construction, whether on a roof or a large construction site, was outdoors and distanced. Frankly, solar was more fortunate than most industries."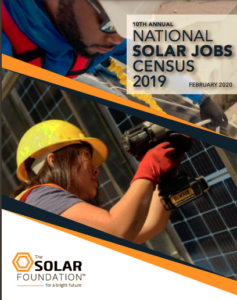 The Solar Foundation's National Solar Jobs Census details the size and scope of the U.S. solar workforce. The 2019 numbers were breathtaking: nearly a quarter-million made up the solar workforce. Over the past decade, U.S. solar jobs increased 167% adding almost 200,000 jobs. Between 2014 and 2019, solar employment increased 44%, five times faster than job growth in the overall U.S. economy. In 2019, Texas's solar full and part-time workforce was more than 14,000 putting us in the top five.
Still, the Texas solar industry has felt the effects of the pandemic.
In Texas, nearly 23,000 clean energy jobs have been lost, about 9.2% of the clean energy workforce.
As bad as the losses of clean energy jobs in Texas, its oil and gas workforce has felt the effects of COVID even more. While the industry was in contraction mode before the pandemic and some jobs were added back in September, 70,000 oil and gas jobs have been lost in Texas since late 2018.
Chevron Corp. is planning a 10% to 15% reduction in its global workforce this year, the biggest recent cut to headcount yet among global oil majors. It comes after oil-services giants Halliburton Co. and Schlumberger Ltd. have already made steep jobs cuts, including in Texas.
That said, former fossil-fuel employees with transferable skills like project managers, engineers, construction specialists, are increasingly finding work in clean energy. Project managers, engineers and construction specialists are specific examples of transferable skills.
Despite the historic downturn, wind and solar production are still on a steep trajectory for explosive growth in Texas. The Electric Reliability Council of Texas (ERCOT) predicts a 150% increase in utility-scale solar to 570MW this year. Next year, it's predicted to grow 130% to 14,00MW. On the wind side, Texas ranked #1 nationally in 2019 for installed wind capacity with 30+GW on the ground and another 5GW capacity under construction.
We're carving out a leading position in large scale battery storage. Tesla's Electric Cybertruck and Model Y SUV plant is moving to Del Valle, making it the company's largest auto assembly plant. Musk himself is moving to the Lone Star State. Greentown Labs, North America's largest climate-tech incubator, will open its second location in Houston in Spring 2021. By the end of last year, private companies had invested more than $53 billion dollars in solar and wind energy, producing enough clean electricity to power over 7.7 million homes.
Given these enviable facts, is there reason for optimism or concern for solar in the upcoming legislative session?
"Word from leadership is because there will be less bandwidth to deal with the flood of legislation because of the pandemic, there will be fewer bills filed," said Hemmeline. "Legislation on the most important issues, like ways to recoup billions in tax shortfalls, will eat up a lot of oxygen. For solar, the tenor of the conversations won't be drastically different than last session: solar is growing tremendously, it has statewide benefits and enjoys broad support. It's in a good place to keep growing."
The benefits of solar are truly statewide. "Not everyone can live on the Texas coast and reap the benefits of the wind resource, but everybody gets solar, either on their roof or from big box retail roofs or land tracts. It's the best neighbor: it's silent, doesn't need oceans of water, doesn't generate traffic. It's the reason we love solar: it's unabashedly good."
Recently, TXSES formed a policy committee to address immediate solar issues. "This group brings a broad range of perspectives from utility-scale renewables to distributed generation to energy efficiency and new smart grid technology," said Patrice 'Pete' Parsons, TXSES Executive Director. "We're prepared to keep up with what happens with solar this session."
Session runs from January 12-May 31, 2021. Stay tuned for updates.
Jane Pulaski, former communications specialist for the Interstate Renewable Energy Council and former TXSES board member, is currently helping TXSES amplify its message and increase its visibility via traditional and digital media.